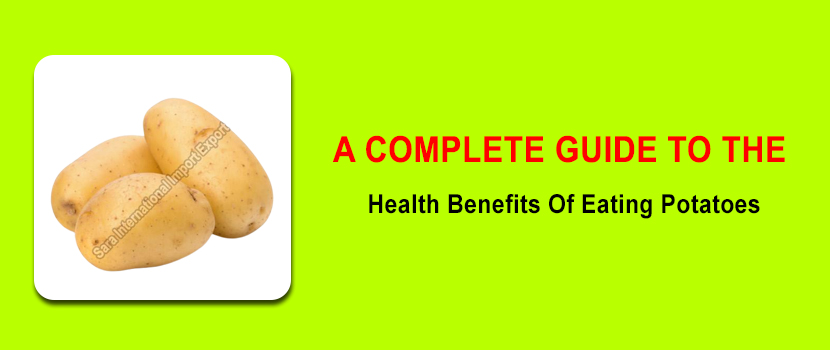 Potato from Potato Exporters India is often referred to as "Aalu" in the majority of India. It is a commonly planted vegetable that is used in many of the foods we eat daily. Regarding veggies' positive effects on health, there is no question. These vegetables are bursting with different vitamins, minerals, and other elements that aid in preventing a wide range of bodily issues or disorders.
The edible tubers of the annual potato plant, a member of the "Solanaceae" family, are the reason it is planted. The potato plant has a branching stem, leaves grouped in a rosette, and irregularly shaped and sized leaflets. The potato plant's leaves are oval-shaped and range in size from 5 to 15 cm (2 to 6 inches) in width and 10 to 30 cm (4 to 12 inches) in length.
Yellow-green berries and white or blue blossoms are produced by potato trees. The top 25 cm (10 in) of the earth is often where potato tubers, which are subterranean plants, grow. The color of the tubers might vary according to the variant, going from yellow to red or purple.
Benefits Of Potato Consumption:
● Good for skin -
The process that keeps the skin healthy is collagen. Antioxidant vitamin C works to protect against smoking, pollution, and sun damage. The vitamin C found in potatoes aids in skin renewal and smoothness.
Additionally, potato juice or paste can be applied to burns to lessen the burning sensation and stop the skin from ballooning up. In addition, you may use this same paste or juice on sunburned skin to restore its previous smooth, shining appearance.
● Good For Metabolism -
A great source of vitamin B6 is potatoes. It contributes significantly to energy metabolism by converting proteins and carbs into glucose and amino acids. The body can produce energy more readily from these tiny molecules.
● Good for bone health -
The nutrients in potatoes—iron, phosphorus, calcium, magnesium, and zinc—help both to create and to maintain strong bones. To produce and mature the collagen needed for healthy bones, iron and zinc are crucial.
● Controls Blood Pressure -
Blood pressure can be managed by eating potatoes. Chlorogenic acid and anthocyanin, two substances that aid in decreasing blood pressure, are found in potatoes.
● Reduces inflammation -
Alkalizing and anti-inflammatory potatoes can treat stomach and duodenal ulcers while lowering stomach acidity. Potatoes can also reduce arthritis-related inflammation.
● Calms nerve disorder -
Tryptophan, an amino acid with a wealth of naturally occurring therapeutic effects that helps soothe nerves, is a component found in potatoes, particularly in the white meaty section. El-tryptophan, an amino acid that is normally absent from human bodies and found in potatoes, is a necessary amino acid.
● Good for heart health -
Anthocyanins, an antioxidant with cardiac benefits found in potatoes, are amazing for the heart. Fiber, potassium, vitamin C, and vitamin B6 are all present and are recognized to be great for heart health.
● Improves Digestion -
Since potatoes are high in fiber, digestion is facilitated. Fiber is important for digestion and aids in the feces extraction process. Potassium, a mineral found in potatoes, can aid in early recovery from diarrhea.
● Good for the Brain -
A co-enzyme found in potatoes called alpha lipoic acid has been shown to improve general brain health. This acid has been dubbed by experts as a treatment for Alzheimer's patients. Zinc, phosphorus, and the B complex, among other vitamins and minerals found in potatoes, especially have a good impact on brain function. In particular, vitamin B6 is crucial for preserving human health.
According to research, potatoes' high carbohydrate content may help to lessen premenstrual symptoms. The body produces more serotonin when tryptophan levels are improved, which is made possible by potatoes' high carbohydrate content. The brain is stimulated and anxiety is decreased by elevated serotonin levels.