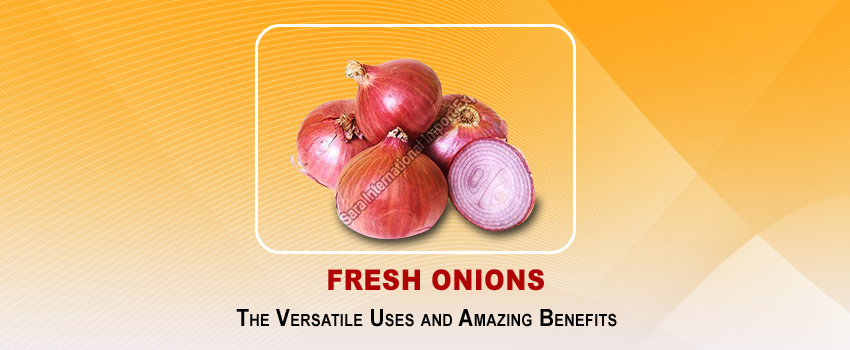 Fresh onions look like a bulb, pink and white in color, consumed globally. The dehydrated onions originated in Central Asia (majorly in Iran and Pakistan). This vegetable is grown underground and also known as Allium Cepa, bulb onions or common onions. Onions, scallions, garlic, shallots, leeks and chives belong to the same family.
The variety and environmental factors decide the size, growth and shape of these bulb onions. Basically, it is a bulb with several layers covered with a thin paper sheet (as outer layer) along with few root stems. India has become the second largest onion growing country throughout the globe. It is a fact that India is the second largest producer and exporter of fresh onions in the world.


Culinary uses: Fresh onion is consumed as raw in salad, cooked, caramelized on the top of dishes, in sandwiches, ingredient in making of soups, strews and many more. Onions can also be used to prepare pickles or any seasoning and with roasting of spices as add ons to be served with food.


The low-calorie onion can be served as sliced, ring, kibbled, powder forms, chopped, granulated, and minced. Onion plays an essential role in everyday cooking. Onion is a popular vegetable used widely in many cuisines.



Majorly onion producing states in India are as follow:

Maharashtra (First rank) followed by Madhya Pradesh
Karnataka

Gujarat

Bihar

Andhra Pradesh

Rajasthan

Haryana

Telangana


Let's unlock some benefits with consumption of fresh onions in daily life:

Improves bone health
Reduce cancer risk (such as: breast cancer, stomach cancer, colon, etc.)
Controls blood sugar levels

Loaded with antioxidants (help to keep heart healthy)
Contains vitamin C (immunity booster and responsible for skin and hair health)


Contains anti-bacterial properties
Available different variety of Indian fresh onions are mentioned below:
Agrifound Dark Red

Agrifound Light Red

NHRDF Red, Agrifound White

Agrifound Rose

Agrifound Red

Pusa Ratnar

Pusa Red

Pusa White Round

Different sizes available as follow are listed below:

Small size onions

Medium size onions

Large size onions

Facts that need to be taken care to export onions, the grade designation and quality development parameters have also been set up for identifying quality onions.


Fresh Onion Exporters in India: The exporter usually starts by researching the international market for fresh onions, which may include identifying potential countries and buyers. The choice of export landing place often counts on factors like quality requirements, pricing, and trade agreements. Simultaneously, they source the bulb onions from local farmers or suppliers directly. The quality and variety of onions can considerably affect the export process.

We (sarainternationalindia) as exporters believe in exploring and approaching opportunities to grow, build trust and expand into new markets and diversify our product offerings.


Summary
Exporters may establish relationships with local distributors in the selected market to help with distribution and marketing efforts. Right strategies, quality control, and adherence to rules and regulations can be very profitable ventures. Building a strong relationship with buyers and suppliers can be a key to long-term success in this industry.